Foreign exchange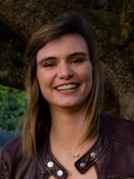 Ense3, Grenoble Institute of Technology, France
Forecasting of PV production & consumption
When I visit Slovenia, there will be for sure nice memories :)
Chloé Gaignard, France
Ense3, Grenoble Institute of Techhnology
I had the opportunity to work on the COMPILE project this summer. Despite the remote working conditions because of the COVID-19, I had the opportunity to discover the world of research on a project with important ecological values.
This internship brought me a good understanding of what could be the grid of the future by working on the forecasting of the production and consumption of the COMPILE pilot site Luče thanks to the weather forecast.
I would thank Assoc. Prof. Andrej Gubina, for giving me the opportunity to work on this project as well as Ms. Chloé Fournely for accompanying me during this remote work. Thanks also to Mr. Tomi Medved, Ph.D., for his explanations of the project. I hope I will have another opportunity to come and discover Slovenia and maybe come and meet the project team.
Internship brought me
a good understanding of
the grid of the future.